Found Shoe Typology #1
Currently, I have enough shoe images for almost 2 4x5 grids. This one is repeated below as a placeholder for a third one. I also thought the shoes could be used as single images, rather than in a typology grid. I'm open to ideas as to how to best utilize them. I can also gather more shoes to photograph. I've become adept at knowing where to find them.
Home Sweet Home
I remember learning about the word "peripatetic" and being so relieved that there was a word, a poetic sounding word at that, for the harsh reality of having moved so many times when I was a girl. Twenty times by age 10. Home was a series of places, more an idea, an ability to adapt to constantly changing environments and places. The day I learned that one could daydream fantasy worlds from their own imagination, all I did was imagine homes and houses - it was a revelation that lifted me out my scary reality.
Polaris. The Sentinel.
I've learned to have my own back. Trauma engenders a heightened sense alertness for potential threat/dangers.
Fight or Flight
PTSD: flight or flight response…I've struggled with it my whole life. Time, therapy and EMDR have helped considerably with integrating these feelings and developing healthier responses, but it's tendrils never entirely go away. It shapes you and informs how you respond to all stimuli.
I learned what spark plugs were and how they are essential for making cars go as my Mom's boyfriend would often pull them out of the car (while we were in it) when we were trying to escape in the middle of the night.
Coping Mechanisms
You learn to hide. Growing up around men who became violent and unpredictable when they drank makes one an expert at invisibility. To not be seen means you are safer. As an adult, being invisible holds you back…
A letter I wrote my mother when I was 10, during a time she sent me to live with my father (a man I hardly knew) because the violence was so bad at home. My dad lived in a tiny trailer in the gravel parking lot of his favorite bar. Poignant as this letter is, it's what I didn't write that makes it significant: I thought I had breast cancer as I didn't realize I was starting to grow breasts, my dad was passed out or not there most nights, I had a serious wound on my shin where I could see bone that should have had stitches but the only first aid I received was from a bar maid and some Hells Angels. Virginia never gave me piano lessons.
My memories of childhood are a threadbare cloth. There are wide swaths and Swiss cheese holes of nothingness. It's notable for the traumatic events I do recall as much as for what I don't recall. I have no memories of normal things like dinners or meals, time at home or school. Experiencing neglect as a child also leaves one with this sense of not really existing and that has such profound ramifications as to how one moves and reaches forward (or not) in life. As far as I've come, this is something I still struggle with.
From Here to There
Visceral Rift
I've always had a significant attachment/relationship with beds. Having moved so often when I was a child and my beds/rooms being so non traditional (closets, behind the drivers seat in a Detroit city bus, in a plastic and wool blanket lean-to tent, a commercial fishing boat, a shelter, and _____ when my mother doesn't remember where I was sleeping when she and her boyfriend were doing a lot of heroin (and we weren't really living anywhere) - and I don't remember either. When we lived in the rural forest areas of Oregon I would build elaborate beds out of different colors of moss when playing in the woods.
Exposure
Lack of security…aching for my place in the world.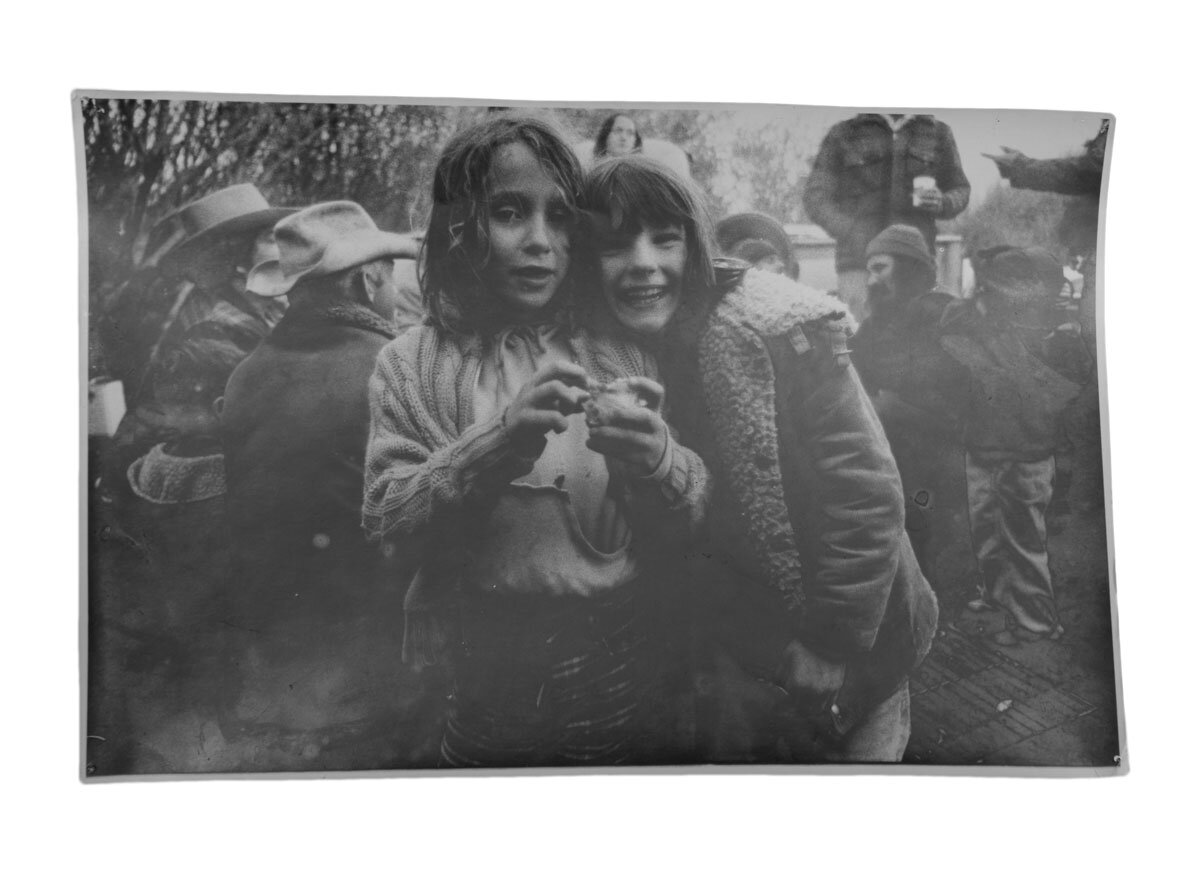 Sightline
This and all the other childhood photos are currently phone snaps of the actual pictures. I'm having them professionally scanned and will update with those soon.
This one is significant for two reasons. 1) I didn't know it was school picture day when this photo was taken and I remember being very confused not understanding what was happening. Things were so bad at home at that time I was pretty disassociated when this was taken. 2) Over the years I was engaged in therapy, I kept this photo on my refrigerator to form a connection and nurturing relationship with my younger self. I have a lot of fondness and tenderness connected to this photo.
Learning Curve